Happy Friday! TGIF am I right?! This month has been a whirlwind. I took a bit of an unplanned hiatus from blogging to focus on house hunting and family visits. It felt right to step back for a few weeks to get myself focused again. Since it is the last Friday in July I thought I would share the 5 things I am loving this month.
Wearing
I just discovered the most comfortable pair of leggings ever. They aren't Lulu Lemon and they won't cost you an arm and a leg! Aerie has a line of activewear called Chill. Play. Move. Their designs are adorable but it's the lightness of the leggings that won me over! I bought a pair of blue ombre "Move" leggings and I just love the way they fit. They are comfortable and lightweight which keeps you cool when you're working up a sweat. I loved the pair I bought so much I got a second pair! (I plan on buying more down the road!)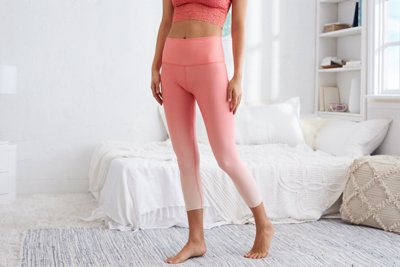 Listening
Free CookiesPodcast By Kate Fagan(ESPN Guru) and Kathryn Budig(yoga queen). Free Cookies is centered around health, fitness and wellness. Kate and Kathryn are also in a relationship and they dive into some aspects of that. Occasionally they get special guests on like Kathryn's yoga mentor, Sean Corn. This podcast is just pure fun. Kate and Kathryn's dynamic is fun to listen to. You can check it out here.
Watching
Netflix per usual! I started and finished the new Netflix Series GLOW a few weeks ago. I was obsessed! Based in the 80s, GLOW or "Gorgeous Ladies of Wrestling" is about women who get cast in the first female televised wrestling show. Each character is going through their own plights in life but wrestling brought them together to deal with their problems in a sense. Starring Allison Brie (Community/Madmen), Marc Maron (WTF Podcast/Maron) and even Kate Nash(British Pop Singer). If you love the theatrics of the 80s as well as the music, I highly recommend you watch GLOW!
Reading
July put me in the mood for a novel as my book of choice. I finished  My Not So Perfect Life by Sophie Kinsella a few weeks ago and I absolutely LOVED it. Next Monday I will share a review of it here on the blog. Stay tuned!
For my August book I just began Kicking & Dreaming: A Story of Heart, Soul and Rock & Roll by Ann and Nancy Wilson of Heart. Growing up my dad always listened to Heart. I loved hearing women kill it in an industry dominated by men. I'm a few chapters into this book and I'm really enjoying it so far. I'll be sharing a review of this book in the next few weeks.
What are you loving in July?